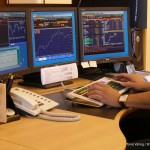 When I was on Wall Street, we rarely had more than 1:1 leverage, and the highest I recall in my career was 4:1. The idea of leveraging 30:1 or more, as many financial institutions did recently, is not a business.
Michael Milken
Finance is a craft that can become an art with skill and proper application.
Michael Milken
I've always found "junk" a peculiar term to use for virtually the entire body of American business outside of a small, elite group. Firms that have not achieved an investment-grade label are rated as "junk." Yet virtually all net new jobs come from such firms.
Michael Milken
With all this wealth, the problem is not who's going buy assets, it's are there any assets to buy with all the liquidity in the world.
Michael Milken
It's hard to imagine when you're young how you accumulate wealth. My experience indicates that most people who've accumulated a great deal of wealth haven't had that as their goal at all. Wealth is only a by-product, not the original motivation.
Michael Milken
Beauty is in the eye of the beholder, but the marketplace will later decide whether your eye was a good one.
Michael Milken
The best credit by far, history has shown, has been the private company. Sovereign countries have defaulted 30 times as often as private companies, both domestically and foreign. Individuals default five times as often as private companies.
Michael Milken
Why are we in this financial crisis? There are several reasons, but two issues have arisen periodically over the past 200 years. One is credit ratings, which don't necessarily reflect credit risk accurately. A second issue is the false belief that you can build a successful financial business through leverage instead of through unleveraged spreads.
Michael Milken
In 2007, rating agencies gave almost 1,300 financial instruments triple-A ratings. They never legitimately deserved a triple-A rating, but that rating enabled the leverage that created the problem.
Michael Milken
Not long ago, the most-valuable real estate in the world was in places like London, Moscow, New York, Dubai and Beverly Hills. No more. Today, the most-valuable real estate is found on the web pages of companies like Google, Facebook, Alibaba, eBay, Amazon, Baidu and YouTube.
Michael Milken
Category: investors