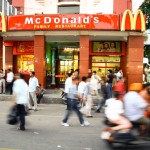 Press on. Nothing in the world can take the place of persistence. Talent will not; nothing is more common than unsuccessful men with talent. Genius will not; the world is full of educated derelicts. Persistence and determination alone are omnipotent.
Ray Kroc
If you work just for money, you'll never make it, but if you love what you're doing and you always put the customer first, success will be yours.
Ray Kroc
The two most important requirements for major success are: first, being in the right place at the right time, and second, doing something about it.
Ray Kroc
Luck is a dividend of sweat. The more you sweat, the luckier you get.
Ray Kroc
If you're not a risk taker, you should get the hell out of business.
Ray Kroc
The quality of a leader is reflected in the standards they set for themselves.
Ray Kroc
Perfection is very difficult to achieve, and perfection was what I wanted in McDonald's. Everything else was secondary for me.
Ray Kroc
Its easy to have principles when you're rich. The important thing is to have principles when you're poor.
Ray Kroc
I didn't invent the hamburger. I just took it more seriously than anyone else…
Ray Kroc
Sometimes Ed MacLuckie would have forgotten to turn the sign on when dusk began to fall, and that made me furious. Or maybe the lot would have some litter on it that Ed said he hadn't had time to pick up. Those little things didn't seem to bother some people, but they were gross affronts to me. I'd get screaming mad.
Ray Kroc
Category: entrepreneur