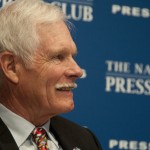 Early to bed, early to rise, work like hell and advertise.
Ted Turner
You should set goals beyond your reach so you always have something to live for.
Ted Turner
If you've got an innovative idea, and the majority does not poohpooh it, then the odds are you must not have a very good idea. When people thought I was loony, it did not bother me at all. In fact, I considered that I must really be onto something.
Ted Turner
I decided I wanted to be a success.
Ted Turner
When you lose small businesses, you lose big ideas. People who own their own businesses are their own bosses. They are independent thinkers. They know they can't compete by imitating the big guys; they have to innovate. So they are less obsessed with earnings than they are with ideas.
Ted Turner
You can never quit. Winners never quit, and quitters never win.
Ted Turner
Do something. Either lead, follow or get out of the way.
Ted Turner
My son is now an "entrepreneur." That's what you're called when you don't have a job.
Ted Turner
All my life people have said that I wasn't going to make it.
Ted Turner
I've never run into a guy who could win at the top level in anything today and didn't have the right attitude, didn't give it everything he had, at least while he was doing it; wasn't prepared and didn't have the whole program worked out.
Ted Turner
Category: entrepreneur