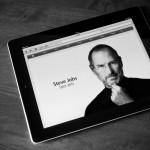 Have the courage to follow your heart and intuition. They somehow already know what you truly want to become. Everything else is secondary.
Steve Jobs
Your work is going to fill a large part of your life, and the only way to be truly satisfied is to do what you believe is great work. And the only way to do great work is to love what you do.
Steve Jobs
Why join the navy if you can be a pirate?
Steve Jobs
Be a yardstick of quality, some people aren't used to an environment where excellence is expected.
Steve Jobs
Do you want to spend the rest of your life selling sugared water or do you want a chance to change the world?
Steve Jobs (to Pepsi CEO John Sculley when trying to recruit him)
You can't just ask customers what they want and then try to give that to them. By the time you get it built, they'll want something new.
Steve Jobs
I'm convinced that about half of what separates the successful entrepreneurs from the non-successful ones is pure perseverance.
Steve Jobs
You've got to start with the customer experience and work back toward the technology – not the other way around.
Steve Jobs
You need a lot of passion for what you're doing because its so hard. Without passion, any rational person would give up. So if youre not having fun doing it, if you dont absolutely love it, youre going to give up.
Steve Jobs
Remembering that you are going to die is the best way I know to avoid the trap of thinking you have something to lose. You are already naked. There is no reason not to follow your heart.
Steve Jobs
Category: entrepreneur