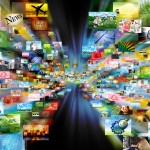 Raise your sights! Blaze new trails!! Compete with the immortals!!!
David Ogilvy
The pursuit of excellence is less profitable than the pursuit of bigness but it can be more satisfying.
David Ogilvy
Don't bunt. Aim out of the ball park. Aim for the company of immortals.
David Ogilvy
I believe in the Scottish proverb: "Hard work never killed a man." Men die of boredom, psychological conflict and disease. They do not die of hard work.
David Ogilvy
The more prospects you talk to, the more sales you expose yourself to, the more orders you will get. But never mistake quantity of calls for quality of sales-manship.
David Ogilvy
It takes a big idea to attract the attention of consumers and get them to buy your product. Unless your advertising contains a big idea, it will pass like a ship in the night. I doubt if more than one campaign in a hundred contains a big idea.
David Ogilvy
I hate rules.
David Ogilvy
The most important decision is how to position your product.
David Ogilvy
You now have to decide what 'image' you want for your brand. Image means personality. Products, like people, have personalities, and they can make or break them in the market place.
David Ogilvy
If you ever find a man who is better than you are – hire him. If necessary, pay him more than you pay yourself.
David Ogilvy
Category: entrepreneur